Lubricants

HEAVY DUTY FLEET PRODUCTS
SUPERIOR QUALITY SYNTHETIC BLEND MOTOR OIL
SAMS1 High Performance Synthetic Blend Motor Oils are premium multi-grade motor oils designed for maximum engine protection even under the toughest driving conditions. They are blended from quality lube base stocks and special additives are designed for all weather conditions.
SAMS1 High Performance Synthetic Blend Motor Oils are fully licensed to meet or exceed the latest American Petroleum Institute SN service classification for use in passenger car, van, sport utility vehicle, light duty truck and other mobile and stationary engines.
SAMS1 High Performance Synthetic Blend Motor Oils outperforms conventional motor oil, reduces friction and wear at start-up and protects your engine against performance robbing sludge and varnish deposits and help improve fuel economy.
SAE 15W-40
SAMS1 Synthetic Blend SAE 15W-40 Motor Oil is manufactured using carefully selected premium high
viscosity index base oils combined with a high performance additive package with the optimal blending of dispersant, detergent, oxidation and corrosion inhibitor, extreme pressure anti-wear, viscosity improver, and defoaming additives to reduce wear and tear on valve trains and rings while preventing sludge and carbon deposits. SAMS1 SAE 15W-40 CI-4/SL motor oil meets or exceeds the performance requirements for Mack EO-M Plus, Cummins CES 20078, Volvo VDS/ VDS-2, Caterpillar ECF-1, and power shift transmissions specifying Allison C-3 / C-4, and CAT TO-2 and is recommended for use in naturally aspirated, turbocharged, or supercharged diesel, gasoline, and propane engines.
Typical Characteristics - SAE 15W-40 Synthetic Blend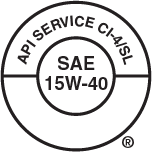 AVAILABLE PACKAGING:
• 1 QT (1L)
• 1 Gal (4L)
• 5 QT (5L)
• 5 Gal (19L) Pail
• 55 Gal Drum (208L)
• Bulk
SAMS1 Lubricants is a global distributor of API licensed quality lubricants, hydraulics and chemicals. We focus on optimizing and controlling production costs while offering the most competitive manufacturing prices and uncompromising "Made In The USA" quality, products and service.
SAMS1 Lubricants
USA Corporate Office
320 Murphy Road
Hartford, CT 06114
For more information please contact us.