Lubricants

HEAVY DUTY FLEET PRODUCTS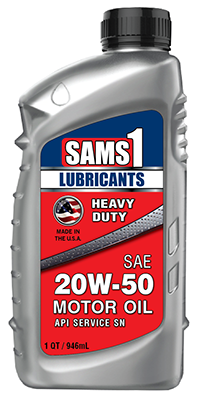 SUPERIOR QUALITY SYNTHETIC BLEND MOTOR OIL
SAMS1 SAE 20W-50 Heavy Duty Motor Oils is a superior quality multi-grade motor oil designed for maximum engine protection even under the toughest driving conditions. It outperforms conventional motor oil, reduces friction and wear at start-up and protects your engine against performance robbing sludge and varnish deposits. It is recommended for passenger car, light truck, sport utility vehicle and other mobile and stationary engines.
SAE 20W-50
SAMS1 Synthetic Blend SAE 20W-50 Motor Oil is fully licensed to meet or exceed American Petroleum Institute (API) SN service classifications and is backwards compatible with all earlier API classifications. SAMS1 SAE 20W-50 Synthetic Blend Motor Oil has been field tested to be comparable to American, European and Japanese manufacturers' requirements for American, European and Japanese manufacturers' warranty standards: ACEA A1/B1 & A5/B5, Chrysler MS 6395, and GM 6094M (now obsolete) and is suitable for many Ford, Chrysler, Honda, Mazda, Mitsubishi, Toyota and other vehicles where an premium SAE 20W-50 API SN motor oil is recommended.
Typical Characteristics - Heavy Duty SAE 20W-50
Product Bulletin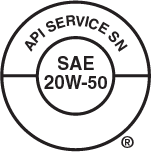 AVAILABLE PACKAGING:
• 1 QT (1L)
• 1 Gal (4L)
• 5 QT (5L)
• 5 Gal (19L) Pail
• 55 Gal Drum (208L)
• Bulk
SAMS1 Lubricants is a global distributor of API licensed quality lubricants, hydraulics and chemicals. We focus on optimizing and controlling production costs while offering the most competitive manufacturing prices and uncompromising "Made In The USA" quality, products and service.
SAMS1 Lubricants
USA Corporate Office
320 Murphy Road
Hartford, CT 06114
For more information please contact us.