Lubricants

SUPERIOR QUALITY Automatic Transmission Fluid
SAMS1 ATF-III Automatic Transmission Fluid is a multi-purpose fluid, blended from selected, highly refined base stocks and advanced additives. It is recommended for transmission systems, hydraulic systems, and power steering units manufactured worldwide requiring the performance standards of ATF-III type fluids / DEXRON®-III (H), DEXRON®-III, DEXRON®-IIE, DEXRON®, MERCON®, Ford ESP-M2C138-CJ, Ford ESP-M2C166-H or Type A Suffix A, Allison C-3/C-4, or Caterpillar TO-2 fluids. SAMS1 ATF-III is not recommended for use in transmissions requiring GM DEXRON®-VI, Ford MERCON ®-V and MERCON® SP fluids.
Benefits and Applications
• All-temperature, year-round protection and performance
• Smoother shifting performance and positive lockup to reduce shudder
• Retains shear stability and frictional performance
• Excellent anti-wear protection against rust, corrosion and oxidation
• Help to extend the life and service intervals of your transmission
• Wide range of seal compatibility
• Low temperature fluidity and fast circulation with excellent high temperature protection
Typical Characteristics - ATF-III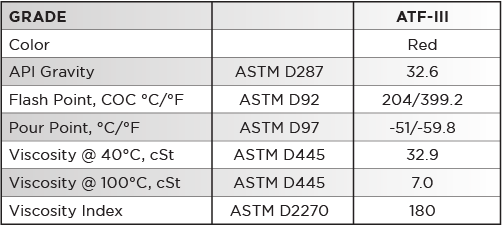 AVAILABLE PACKAGING:
• 1 QT (1L)
• 1 Gal (4L)
• 5 QT (5L)
• 5 Gal (19L) Pail
• 55 Gal Drum (208L)
• Bulk
Power Steering >
SAMS1 Lubricants is a global distributor of API licensed quality lubricants, hydraulics and chemicals. We focus on optimizing and controlling production costs while offering the most competitive manufacturing prices and uncompromising "Made In The USA" quality, products and service.
SAMS1 Lubricants
USA Corporate Office
320 Murphy Road
Hartford, CT 06114
For more information please contact us.