Lubricants
ANTIWEAR HYDRAULIC OIL
AW-68
SAMS1 80W-90 EP Gear Oil is a premium quality multi-purpose gear oil formulated with rust and oxidation additives to minimize gear friction, reduce corrosion, and resist the formation of harmful contaminants. SAMS1 80W-90 Gear Oil meets or exceeds API GL-5, Mack GO-G / GO-H, MIL-L-2105D (formerly MIL-L-2015C), MIL-PRF-2105E and SAE J2360 performance standards for all vehicles and heavy-duty equipment differentials, final drives, manual transmissions and gearboxes including industrial gearboxes specifying US Steel 224.
Benefits and Applications
• Excellent thermal stability
• Special additives provide sludge and deposit control, and longer service life
• Excellent rust and corrosion protection for all system components
• Provide superior water separation and demulsibility
• Excellent anti-foam protection and rapid air release
• Provides anti-wear protection for pumps, motors, valves and other hydraulic circuit components operating
under high pressures and loads
Typical Characteristics - AW-68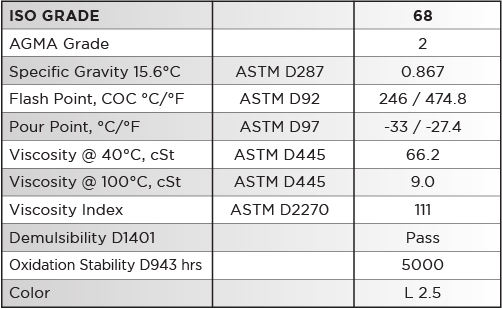 AVAILABLE PACKAGING:
• 5 Gal (19L) Pail
• 55 Gal Drum (208L)
• Bulk
SAE 80W-90 GO >
SAMS1 Lubricants is a global distributor of API licensed quality lubricants, hydraulics and chemicals. We focus on optimizing and controlling production costs while offering the most competitive manufacturing prices and uncompromising "Made In The USA" quality, products and service.
SAMS1 Lubricants
USA Corporate Office
320 Murphy Road
Hartford, CT 06114
For more information please contact us.